Dorthe Berntsen honoured with the Carlsberg Foundation Research Prize
On Sunday 5 September, professor of psychology Dorthe Berntsen received the Carlsberg Foundation Research Prize. For her outstanding memory research. For being an interdisciplinary role model. And for having "transformed psychological research in Denmark."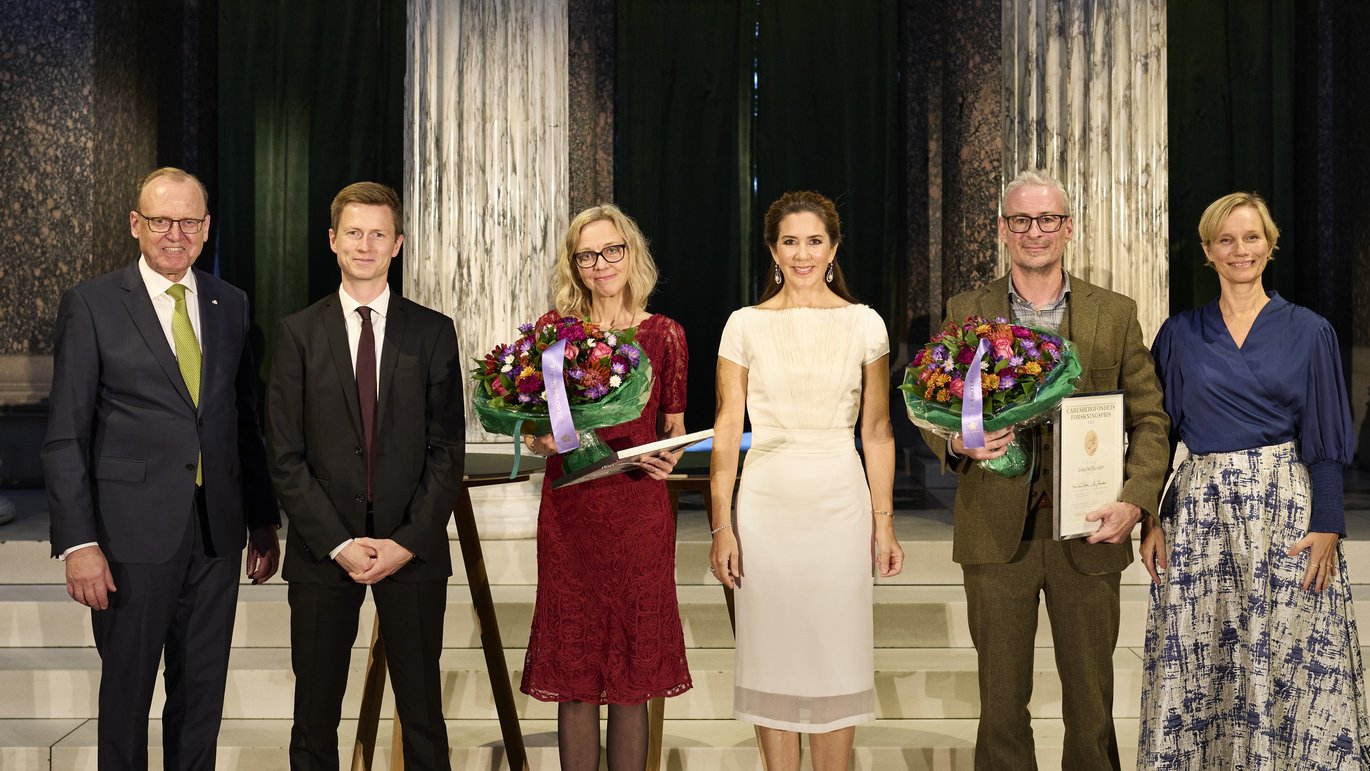 Her basic research in autobiographical memory has contributed to a variety of fields, including our understanding of disorders such as dementia, depression and post-traumatic stress disorder. Now, Dorthe Berntsen is being honoured with the Carlsberg Foundation Research Prize.
"It is a great acknowledgement. Not just of my work, but of the many people I have collaborated with – and of the quality of this collaboration. At the same time, I am extremely happy to be able to call more attention to psychology – understood as a basic research discipline – in Denmark by way of this award," says Dorthe Berntsen, who is a professor of psychology at the Department of Psychology and Behavioural Sciences at Aarhus BSS, Aarhus University, and director of the basic research centre Center on Autobiographical Memory Research (CON AMORE).
A role model for interdisciplinary research
Dorthe Berntsen received the award Sunday 5 September at Ny Carlsberg Glyptotek in Copenhagen. The award was presented by HRH Crown Princess Mary, Minister for Higher Education and Science Jesper Petersen, President of the Royal Danish Academy of Sciences and Letters Marie Louise Nosch and Chairman of the Board Flemming Besenbacher from the Carlsberg Foundation.
The statement accompanying the Carlsberg Foundation Research Prize described how Dorthe Berntsen receives the award for her outstanding research into the human ability to recall experiences from one's personal past and imagine possible events in one's personal future.
In addition, the committee emphasised how Dorthe Berntsen has transformed psychological research in Denmark and illuminated the subject of autobiographical memory from an unusually broad and integrated perspective, combining neuropsychology, clinical psychology, developmental psychology, ageing, animal behaviour and neuroscience.
According to the committee, she has thus become a role model within interdisciplinary research.
Groundbreaking results within spontaneous memories
A considerable part of Dorthe Berntsen's research has focused on involuntary autobiographical memories. That is, our spontaneous memories which appear of their own accord.
"When I began my research in the 1990s, no one had really investigated this type of everyday memories before, but it turned out to be a rich vein and one which has been central to my research ever since. Originally, involuntary memories were considered rare and a sign of an emotionally disturbed mind. The assumption was that healthy people usually recall memories through a conscious and controlled process. My research has corrected this idea," explains Dorthe Berntsen.
She has demonstrated that involuntary memories constitute a basic form of memory also found in other species.
"Involuntary memories probably emerged at an earlier stage of evolution than the types of memories we command ourselves," she explains.
In collaboration with her colleagues, Dorthe Berntsen has shown that these forms of spontaneous memories typically focus on positive experiences. In contrast to what was previously assumed, they are not particularly negative. She and her colleagues have also discovered that we develop spontaneous memories at an earlier stage of our childhood than conscious recollections, and that they are less affected by ageing and dementia.
Among other things, this part of Dorthe Berntsen's research has contributed to our current way of helping people with dementia by giving them clues to their childhood memories.
Award to Dorthe Berntsen as well as Eske Willerslev
Every year, the Carlsberg Foundation awards two major prizes to researchers who have "made a crucial contribution to basic research on a high international level": one in the field of natural sciences and one in the field of either humanities or social sciences.
This year, the award in the field of natural sciences went to Eske Willerslev, a professor at the University of Copenhagen and University of Cambridge.
Each prize winner receives DKK 1 million. DKK 750,000 is earmarked for research activities, while DKK 250,000 is a personal gift.
Watch the Carlsberg Foundation's video of Dorthe Berntsen.