The 'Research Communication Award 2022' goes to Michael Bang Petersen
His research and research communication have helped both citizens and authorities through the COVID-19 crisis. Now, Professor Michael Bang Petersen is honoured by the Ministry of Higher Education and Science.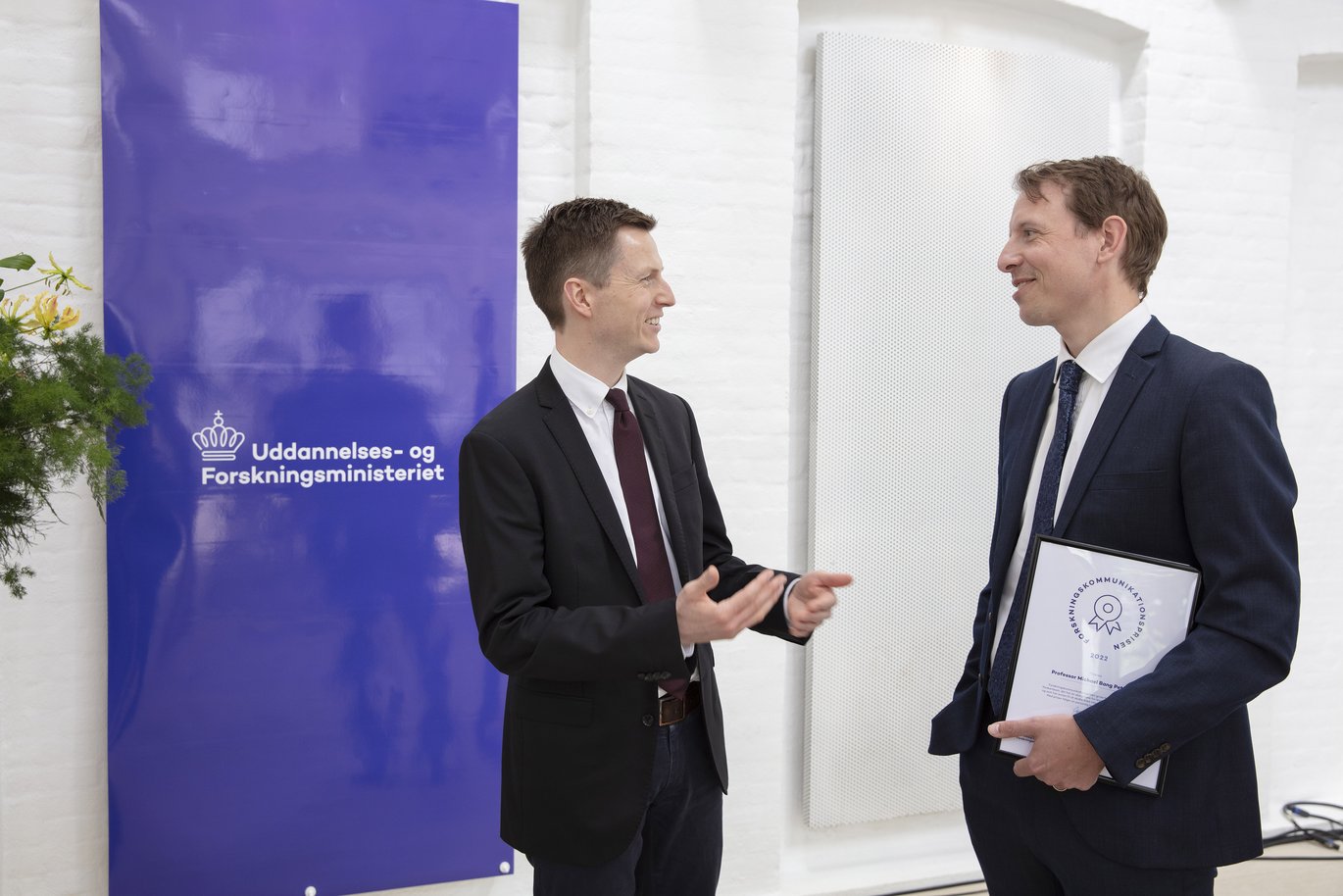 Michael Bang Petersen, who is a professor of political science at Aarhus BSS, Aarhus University, receives the 'Research Communication Award 2022'. This was announced by the Ministry of Higher Education and Science, which awards the prize.
In a press release, the ministry states that he has "become known as a sober and nuanced communicator of his research results."
"Michael Bang Petersen has dedicated his research to the state of our democracy in the time of a pandemic when we needed it the most. In a tireless and calm manner, he has uncovered and described our feelings as lockdowns, the absence of our close relations, worries about rapidly developed vaccines, or the fear of losing one's job affected many of us. With the HOPE project, Michael Bang Petersen simultaneously researched, communicated and advised decision-makers. For this, we owe him a big thank you," says the Minister for Higher Education and Science Jesper Petersen.
A team effort
"I would like to stress that it is the joint efforts of a great number of people that have made it possible to deliver new knowledge in real time during the crisis," says Michael Bang Petersen, professor at the Department of Political Science.
Michael Bang Petersen heads the research project HOPE, in which a group of researchers have collected data on citizens' behaviour and attitudes on an ongoing basis since March 2020 in connection with the COVID-19 crisis and the corresponding crisis management.
"It has been a nerve-racking process full of dilemmas, seeing as right from the start, HOPE was conceptualised as a different kind of research project. Our fundamental vision was to deliver research which could be of use here and now. Usually, new research goes through a lengthy peer review process – a kind of quality check which takes months, if not years. But society had an urgent need for precise knowledge about the situation we suddenly found ourselves in. We could not take for granted that it would be possible to disseminate data in real time in a credible manner, so I consider the Research Communication Award a welcome sign that we succeeded," says Michael Bang Petersen.
Some of the results from the HOPE project have already been subject to peer review and published in highly esteemed scientific journals such as Proceedings of the National Academy of Sciences (PNAS) and Psychological Science.
Cited eight times a day
In selecting Michael Bang Petersen as the recipient of the 'Research Communication Award 2022', the jury has attached special importance to his extensive media presence. In 2021 alone, he appeared in Danish media eight times a day on average. In addition, he has communicated his knowledge in international outlets such as CNN, BBC, Fox News, Washington Post, New York Times, Nature and Science.
"People often ask me if the experience has been fun. But fun is not the word I would use. Rather, I would say that it has been meaningful, but it has also been very tough. We were given an opportunity to conduct this unique project and with it came an important and meaningful vision of research communication. But it has been full-time work on top of my full-time job as a researcher, and this would never have been possible without an understanding family," says Michael Bang Petersen.
Read the Danish press release from the Ministry of Higher Education and Science.
About the Research Communication Award
Each year, the Ministry of Higher Education and Science awards the Research Communication Award to a researcher or team of researchers, who have used effective research communication to draw broad attention to a research topic.
The chair group of the Independent Research Fund Denmark conducts an assessment of the recommended candidates and nominates three people, who are then evaluated by a panel of experts from Videnskab.dk. The final recommendations and evaluations are then submitted to the Minister for Higher Education and Science, who selects the winner and presents the award.
The award includes a cash prize of DKK 200,000.